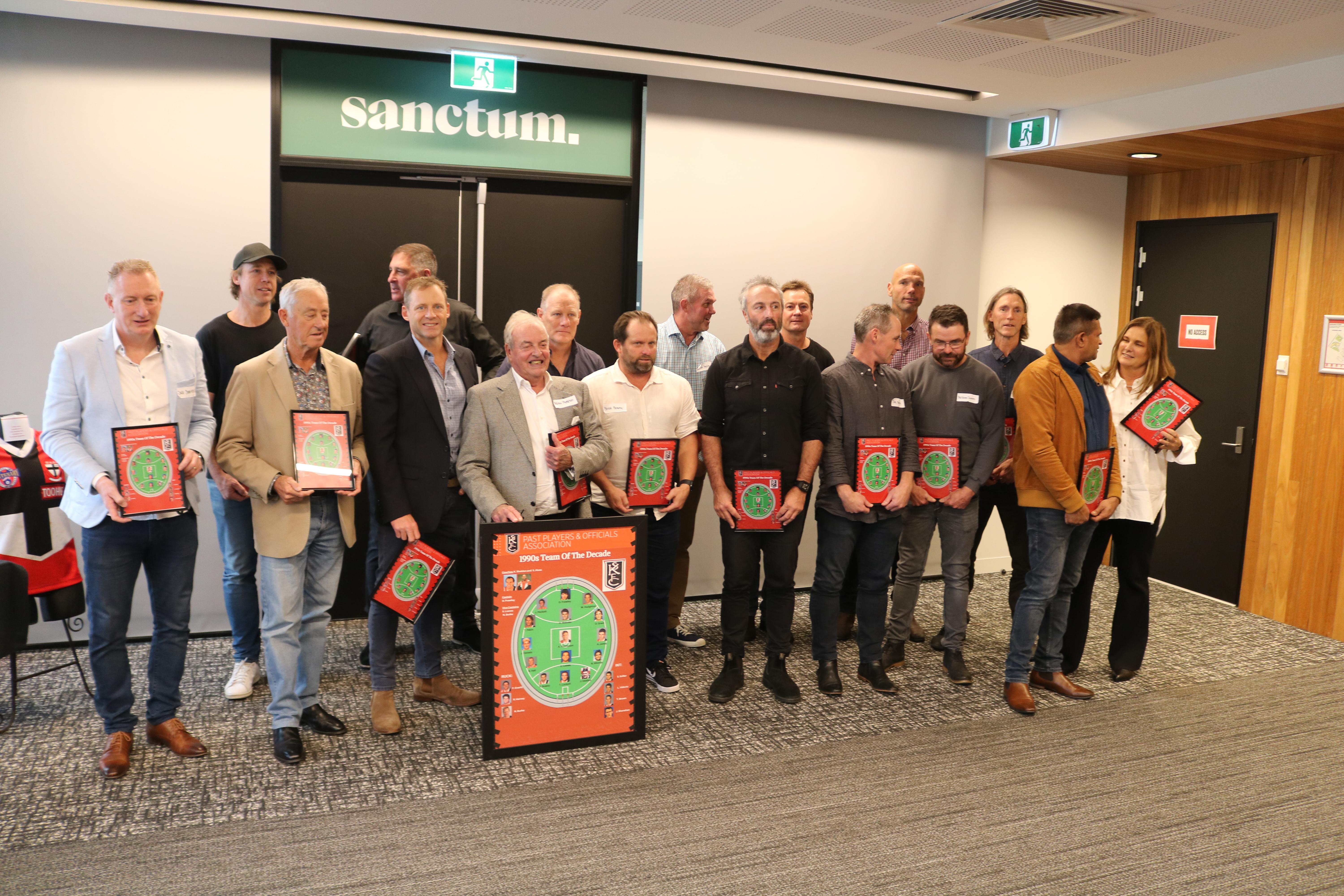 The St Kilda Past Players Association has had a flying start to the 2022 season.

Our 1990s Decade Lunch, and our first PP&O Breakfast at the Danny Frawley Centre were extremely popular and set the tone for the season.

The concept of the Decade Lunch was driven by PP&O committee member Simon Meehan and followed on from the lunch which honored our best players of the 1980s. That memorable get-together in 2019 marked the last St Kilda function attended by Danny Frawley who was master of ceremonies.

The beloved "Spud" was announced as the skipper of the 1990 Team of the Decade. Anita Frawley spoke of the 1990s era, and Spud's great mates Stewart Loewe, Rob Harvey and Nathan Burke added some heartfelt words.

Ken Sheldon who in 1991 guided the Saints to our first finals series in 18 years, and Stan Alves who was at the helm for the 1997 Grand Final were joint coaches.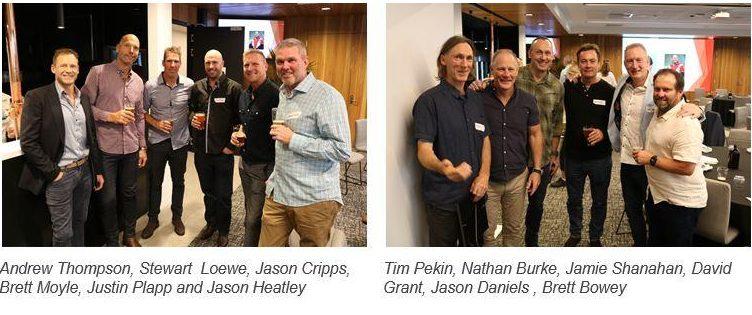 The team was...
Backs : Justin Peckett, Danny Frawley, Max Hudghton
Half-Backs: Tim Pekin, Darryl Wakelin, David Grant
Centres: Jayson Daniels, Andrew Thompson, Austinn Jones
Half-Forwards: Barry Hall, Stewart Loewe, Nicky Winmar
Forwards: Brett Bowey, Tony Lockett, Jason Heatley
Ruck: Peter Everitt, Robert Harvey
Rover: Nathan Burke
Interchange: Steve Sziller, Jamie Shanahan, Lazar Vidovic, Tony Brown
Of the 131 players who represented the Saints during the 1990s, 36 now live interstate so it was not possible for everyone to get to RSEA Park. But Big Spida Everitt spoke to the room via Zoom and fellow Queensland resident Danny Craven headed south for the day.

It was no easy task to make this glittering line up and players such as Dean Greig, Gilbert McAdam, Dean Rice, Russell Morris, Mick Dwyer and Frank Coghlan could describe themselves as unlucky. But it was a day when anyone who played a senior game in the 1990s was welcomed with open arms.

Sam Cranage, Steve Newport, Brett Moyle, Justin Plapp, Jason Cripps and Brad Campbell joined in the festivities as did the man still hailed as "The Pres" – Andrew Plympton.

April Past Player and Official Breakfast

The Saints Past Players and Officials Association has created many new initiatives in recent times and the latest one is certain to gather momentum in future.

The first breakfast get together at the Danny Frawley Centre was a great success. St Kilda PP&O president Sean Ralphsmith introduced captain Jack Steele and coach Brett Ratten prior to the early morning Captain's Run. Our leaders gave a great insight to the preparation and scheduling that goes into the lead-up to a game, and "Ratts" detailed the specific focus on the game against the Giants that was to be played the following day.

Past players across various eras appreciated the chance to ask questions and get an understanding of football in 2022. At the same time, Jack and Brett enjoyed the opportunity of talking to people whose names they had only previously seen on honor boards and dressing room lockers. Brett Ratten was surprised at the tale of Brian Gleeson who won the 1957 Brownlow Medal and never played again. When he asked why that was so, Brett was amazed that Brian's knee injury could not be repaired. "Gee I had 16 knee operations" said the coach, pondering what it would have been like to be forced out of League footy at the age of just 22.

Kirstan Corben, the Executive Director of the Danny Frawley Centre for Health and Wellbeing, spoke to the group about the new centre and re-inforced Sean Ralphsmith's message of encouraging former players to use the facility. Former player Mick Dwyer is one man who has already signed up as he is rehabilitating after a knee operation.

Three of our Brownlow winners – Brian Gleeson, Ross Smith and Neil Roberts were among the crowd with others including Simon Meehan, David Legge, Paul Callery, Dean Matthews, Robert Mace, Kevin Billing, Paul Callery, Rob Elphinstone, and board members Jason Blake and Dean Anderson representing a good cross section of eras. From the club's administration there were former player and now club Player Development Manager Tony Brown, CEO Matt Finnis and Chief Operating Officer Simon Lethlean.

The PP&O breakfast will become a regular feature this year and past players and officials will be advised of dates.

Save the Dates - Spud's Round

As part of the lead up to Spud's Game, St Kilda Football Club are having their first ever Spud's Lunch. This lunch boasts many high profile, industry experts, such as Gill McLachlan and Ben Crowe, among many others. Details as follows...

Thursday June 16
12:00 - 3:00pm
With post networking drinks from 3:00pm
Location: Centerpiece at Melbourne Park
Price: $250 (exclusive price for Past Players, originally $400)

If you are interested in this experience, please reach out to Emily at emily.orrell@saints.com.au or (03) 8765 4359.

Friday June 17
Spud's Game - St Kilda v Essendon
7:50pm
The PP&O encourage all past players and official's to attend this match and support the legacy of Danny Frawley. On this day, we will look to have a designated space to meet. More information regarding this will follow shortly.
If you would like to reserve your ticket now, please do so via the link
here
.
Please note: this link is for members who have a past player and official association membership with game access.
We look forward to seeing you there.
Obituary

We are sad to report the recent passing of former players Irving Davidson, Jack McDonald, and Ken Mulhall. Our condolences are extended to their families.

St Kilda FC PP&O Committee

Sean Ralphsmith 0411 670 438 (President)
Rachael Hobley 0431 451 444 (STKFC Head of Commercial Operations and Fundraising)
Emily Orrell 0477 934 536 (STKFC Consumer Group Co-Ordinator)
Justin Peckett 0433 192 818 (Vice President)
Jason Daniels 0419 733 926 (Treasurer)
Stephen Milne 0403 744 444
Simon Meehan 0418 377 215
Tony Brown 0417 568 903
Georgie Day 0408 347 564
Andrew Keech 0400 123 697
John Bennett 0411 161 385
Russell Holmesby 0418 103 595

Any feedback or ideas to improve our Association are always welcome - just contact any of your committee members